Your Digital Assistant Manager
Achieve Team Accountability

Improve employee accountability for cleaner stores, more consistent processes, and faster service.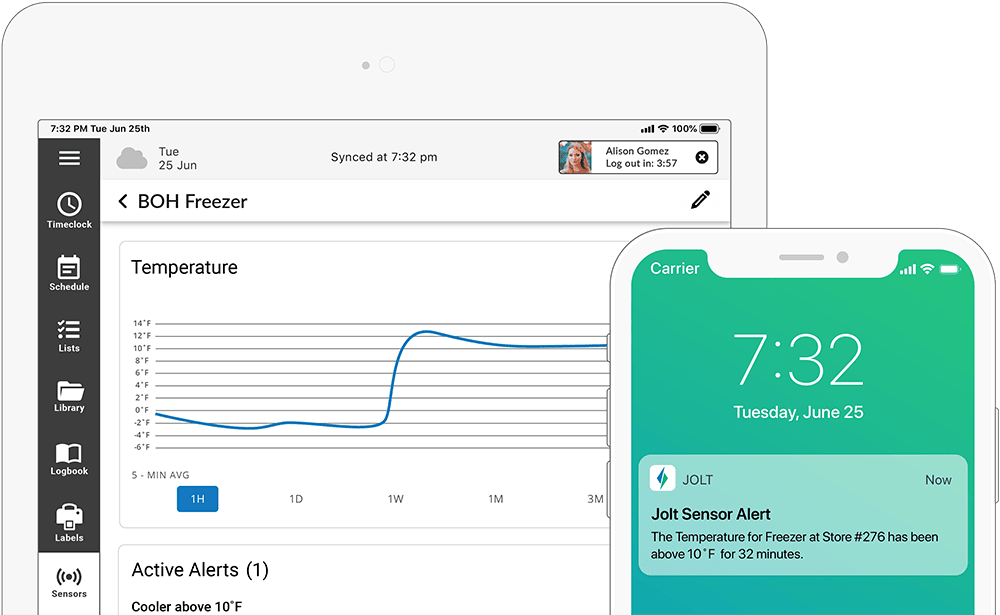 Get Digital Food Safety
Digital temperature logs help you serve hot, fresh food in every restaurant, every day.
Improve Employee Performance
Enhance order accuracy, staff friendliness, and keep your top performers longer.
Get Started Today
Jolt's mission is to create products that make your life easier. Get started today on a path to making your business running smoothly!
An Entire Suite of Products to Increase Your Business's Efficiency
Jolt Lists
With Jolt Lists, your entire team naturally does the right thing, at the right time, in the right way. Turn guesswork into great work
Jolt Sensors
Discover a remote monitoring solution that protects inventory with alerts when temperatures fall outside of a defined range
Jolt Labeling System
Streamline the label-making process by reducing the time it takes to make labels and eliminating errors. 
Jolt Temperature Probes
Take and record food temperature in just seconds.
Jolt Information Library
Provide employee training and store content in one central hub.
Jolt Employee Scheduling
Scheduling your entire crew has never been easier than with Jolt's drag and drop interface.
Jolt Time Clock
Monitor employee clock-ins and shift lengths all from home.
Jolt Communication Manager
Ensure that critical information is delivered to the right people, at the right time, in the right way.
Automation
Automate task assignment, corrective actions, and notifications for overdue and incomplete tasks.
Reporting
View real-time reports to track critical tasks and review employee, location, and brand performance.
Training
Attach training videos or documents to any task that employees can reference for on-the-spot training.
· Automated, consistent record keeping & at-a-glance reporting on all locations
· Worry-free compliance with health & safety regulations
· Text and email notifications for overdue, out of range & incomplete tasks
· Integrated just-in-time training
· Including work orders, opening/closing checklists, employee write-up forms & more