Employee Scheduling Software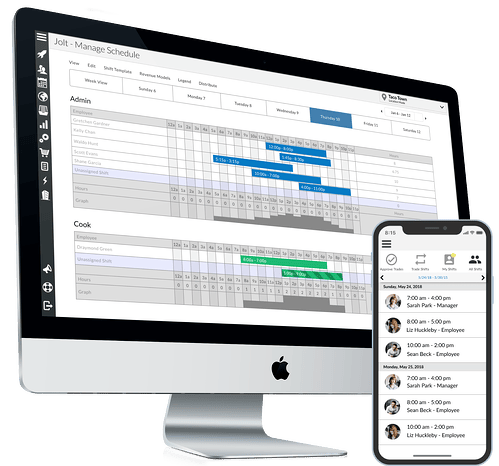 Eliminate the headache around schedule management.
Jolt Employee Scheduling features an intuitive, drag-and-drop schedule builder to save you time when building a schedule. You can even copy a week or start from a template. Also, let your employees handle their availability, time-off requests, and shift swaps from their phones using the Jolt mobile app. Approve or deny requests instantly with the touch of a button, from anywhere.
All of the reporting you need to run efficiently.
Stay on top of key measurement analytics like overtime hours, labor costs, productivity, and break times to maximize efficiency when you need it the most.
Get Started Today
Jolt's mission is to create products that make your life easier. Get started today on a path to making your business running smoothly!
"What would you pay to have your best person in every single one of your locations all the time? That's what you get with Jolt."
—Sean, McDonald's Franchisee
Face detection and photo taken virtually Eliminates Buddy Punches

Employee scheduling & announcements built-in

Record Geo Location of Punch (mobile users)

Flag or prevent punches outside of the schedule

The Jolt Platform includes: Tasks & Checklists, Labeling, Employee Scheduling, Forms & Inspections, Information Library, Time & Attendance, Message Blast, Employee Announcements, and Logbook
An Entire Suite of Products For Business Management
Jolt Lists
With Jolt Lists, your entire team naturally does the right thing, at the right time, in the right way. Turn guesswork into great work
Jolt Sensors
Discover a remote monitoring solution that protects inventory with alerts when temperatures fall outside of a defined range
Jolt Labeling System
Streamline the label-making process by reducing the time it takes to make labels and eliminating errors. 
Jolt Temperature Probes
Take and record food temperature in just seconds.
Jolt Information Library
Provide employee training and store content in one central hub.
Jolt Employee Scheduling
Scheduling your entire crew has never been easier than with Jolt's drag and drop interface.
Jolt Time Clock
Monitor employee clock-ins and shift lengths all from home.
Jolt Communication Manager
Ensure that critical information is delivered to the right people, at the right time, in the right way.
Automation
Automate task assignment, corrective actions, and notifications for overdue and incomplete tasks.
Reporting
View real-time reports to track critical tasks and review employee, location, and brand performance.
Training
Attach training videos or documents to any task that employees can reference for on-the-spot training.
· Automated, consistent record keeping & at-a-glance reporting on all locations
· Worry-free compliance with health & safety regulations
· Text and email notifications for overdue, out of range & incomplete tasks
· Integrated just-in-time training
· Including work orders, opening/closing checklists, employee write-up forms & more
· The Jolt Platform includes: Tasks & Checklists, Temperature Logs, Labeling, Employee Scheduling, Forms & Inspections, Information Library, Time & Attendance, Message Blast, Employee Announcements, and Logbook
"Not only has Jolt saved my managers over two hours of work every day, but I have seen a direct increase in my profitability per store."
"We are beginning to use Jolt for so many things at Chick-fil-A. It has cut down on paper cost, it's super convenient, and it just makes my life a whole lot easier."
"

Now daily food labeling is a snap. No more trying to decipher messy handwriting… I hate to think of life without it.

"